Seaview Manor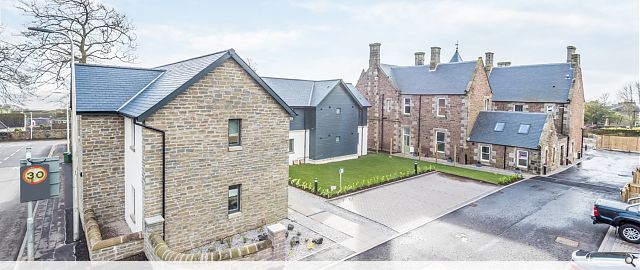 The site is located in Monifieth within the grounds of the Category B Listed Seaview House building (former Primary School). The main priortity was to convert and restore the existing listed building, whilst creating 3no. new blocks of apartments in the expansive grounds.
The new blocks A & B to the west of the existing Seaview House building are 3 storey height, and have been caferully designed to sit 'lower' than the dominant Eaves and ridge lines of the existing building, again to allow the existing building to retain its prominence on site.
The other New Build Block C to the east of the existing building is on the higher section of the site (approx. level with the existing building) and is a lower 2 storey design to respect the Victoria Street and adjacent buildings. The proposed southern frontage of the proposed buildings sit comfortably with the existing building.
There is a clear separation between new and old but the new buildings utilise materials and design elements to compliment the listed building eg via the palette of materials: grey natural Denfind stone to tie in with the grey stone in the site (boundary walls etc) via a base course and on the gables, white render to the lower level, upper level sections of dark grey weatherboard cladding.
The finished development is a design proposal which creates a contemporary flatted development and a sensitive conversion and restoration of a listed building, providing a new use for the building for years to come. building to the east and will enhance the existing context and sit comfortably in its setting. The new centre is a great compliment to the Distillery and contains superb spaces with wonderful views of Lunan Bay.
Back to Housing