Discovery Point
The project includes the creation of a refurbished entrance area, reception and new Dome Gallery Experience. The Dome Gallery invites visitors to experience how Dundee appeared in 1901, the year the RRS Discovery was launched, via a 360° panoramic movie. The movie finishes to reveal rooftop views of modern Dundee from a unique position above the waterfront.
The building's Dome, a lasting and memorable feature in its own right, was not originally designed as an accessible area of the building. Aim resolved substantial technical challenges and designed a new access core and a unique viewing platform to enable visitors to access this part of the building for the first time.
Visitors can now enjoy unprecedented 360° views across the Dundee skyline and River Tay estuary. The design principles in the new entrance space and reception are derived from angular ice flows and Antarctic colours and forms. A new spiral access stair and lift provide a dramatic journey up through the building to the rooftop Dome Gallery. These pay homage to scientific ice coring drills and the extracted ice cores analysed by scientists to help develop our understanding of climate change.
Aim Design worked very closely with the team at Dundee Heritage Trust to deliver the creative content and were supported by Structural Engineers Narro, Services Engineers Elders and Cost Consultants Hardies to successfully deliver this latest visitor experience.
PROJECT: Discovery Point
LOCATION: Discovery Quay, Dundee
CLIENT: Dundee Heritage Trust
ARCHITECT: Aim Design
STRUCTURAL ENGINEER: Narros
QUANTITY SURVEYOR: Hardies Property & Construction Consultants
INTERIOR DESIGNER: Aim Design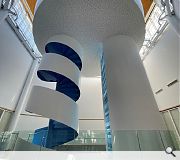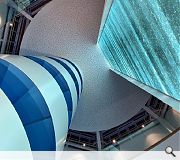 Suppliers:
Main Contractor: Alexander Oastler
Back to Interiors and exhibitions