Grange Loan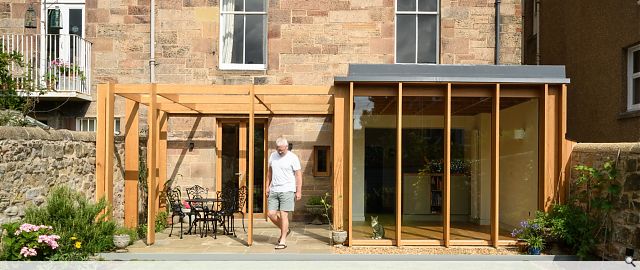 When invited to first visit the property with our clients, the layout was a traditional arrangement with two dark rear rooms and a poorly constructed non-original rear extension. The family were spread over several floors, in cellular rooms. A key objective was to create a space that the whole family could enjoy and dwell in. Whilst also replacing the existing concrete slab rear yard with a bright and colourful lawn to draw the family into the rear garden but to also view from inside. The site sits within the Grange Conservation Area, where non-traditional schemes are often opposed.
The natural materials and the formal, rhythmic pattern of the façade elements were specifically developed to give a timelessness to the extension, one what will overtime harmonise with its wider context. Fundamental to our proposals was the creation of an open-plan kitchen / dining / living space with double doors out onto the external terrace and floor to ceiling glazing to bring daylight into the deep plan. The exposed timber structure acts as both the structure and the frames/facade for the floor to ceiling glazing on the south facing elevation. Importantly there is no steel structure contained within the extension super-structure only galvanised steel 'feet' at the base of the vertical oak posts.
There is an integrity to the structural honesty of the exposed oak structure; as what can be seen in the walls and ceiling of the extension is quite literally what holds the roof in place. Connection from the new garden room to the newly formed external terrace is both visually and physically through a glazed wall one half of which is openable, creating a seamless flow from inside and out. A pergola formed in the same methods and materials as the extension projects from western elevation.
The proposal is that the client will plant vines that in time will fill in this pergola providing shade and protection to the southern elevation in the summer months. The budget for the project was tight, at only £100,000 we needed to fit a simple but effective structural strategy that would create the 'wow' living space that the client was looking for but also without spending un-necessarily. This is a primary reason for the single structure and facade approach of the oak frame, avoiding the cost duplication of separate visible facade and hidden structural elements.
PROJECT: Grange Loan
LOCATION: Edinburgh
CLIENT: Private
ARCHITECT: Somner MacDonald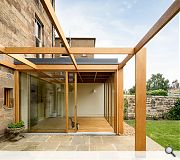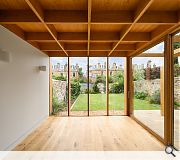 Back to Housing