Burnside Cottage
The owners of Burnside cottage asked us to enlarge and modernise their traditional Shetland cottage without loosing the charm of how the cottage sits in the hillside.
We designed a simple linear extension to the rear, partially concealed by the rising garden level. The black exterior diminishes its presence as a contrasting backdrop to the white splendour of the cottage. The desired naturally lit, spacious plan allows framed sea views by peeping past the cottage's 'shoulders'.
The safe & secure feeling of the cottage lives on within the livingroom, where the fire makes a cosy place to be during the winter storms.' The building is now heated by underfloor heating via an air source heat pump, with above-regulation insulation levels.
PROJECT: Burnside Cottage
LOCATION: Levenwick, Shetland
CLIENT: Anthony Waite
ARCHITECT: née gibson architects
STRUCTURAL ENGINEER: Arch Henderson LLP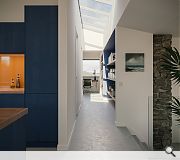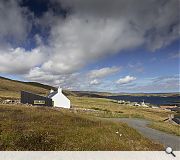 Suppliers:
Main Contractor: John Tait Builder
Back to Housing