Kinning Park Complex
Originally built for use as an extension to the former Lambhill Street School in 1910, today Kinning Park Complex is an important multi-use community space focusing on a wide variety of activities taking place over four key strands: Community, Citizenship, Creativity and Wellbeing.
Over the past 20 years, the repairs and upkeep of the building was becoming more expensive and challenging; a failing heating system, faulty electrics, rot and a leaky roof. With no way to secure the funds to fix a short-term leased building, the leadership team worked towards successfully purchasing the building with the support of a new piece of legislation, The Community Empowerment (Scotland) Act 2015, which would in turn allow for the organisation to secure funding to make the building a warm and safe community resource. In 2018, New Practice began design work in earnest to make the building fit for the future.
A central tenet of the design was to make the most of the building's heritage and existing structure to create functional, flexible and accessible community and creative workspaces across all three storeys was at the heart of this project. Adaptive re-use and internal reorganisation allow for the delivery and bolstering of valuable community events and resources - drop-in cafe, events and learning opportunities - as well as conferences, sports classes and cultural events.
New Practice's designs open up the original double helix stairs to aid with visibility, safety, security and access to the building. This new staircase creates opportunities for enhanced understanding of the space, allowing natural light to filter from the existing rooflight. KPC building users include a high proportion of vulnerable users with accessibility needs from English as a Second Language to mobility needs and health concerns. A new passenger lift allows level access from the ground floor to all areas of the building. Critically, the lift is complimented by a new ramp to the secondary entrance ensuring level exit and entrance for everybody.
A new Quiet Space acts as a multi-purpose support space for a range of uses, including: prayer; breastfeeding; quiet space for neurodiverse building users and break out/thinking space has been added to the project. This room, designed for a maximum of three people, provides a solace within the noisy building for those who need it, no matter the reason why. This bright, colourful and warm building full of personality will provide a space for the community in Kinning Park Complex to come together, make new connections and build on existing relationships for years to come.
PROJECT: Kinning Park Complex
LOCATION: Glasgow
CLIENT: Kinning Park Complex SCIO
ARCHITECT: New Practice
STRUCTURAL ENGINEER: David Narro Associates
SERVICES ENGINEER: Max Fordham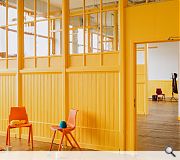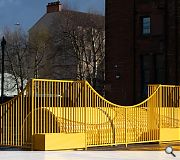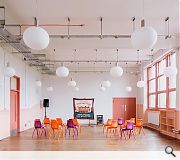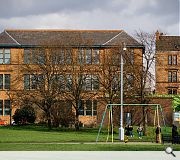 Suppliers:
Main Contractor: Armour Construction Consultants
Back to Public