Penicuik Town Hall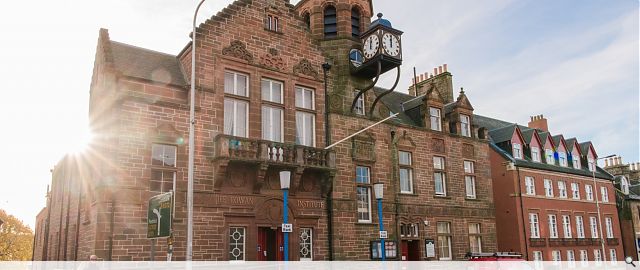 Our recent project at Penicuik Town Hall involved the restoration and enhancement of the Category C Listed sandstone building, which was built in 1893. It is a prominent building within the heart of Penicuik, originally known as the Cowan Institute and built with funds provided by Alexander Cowan, one of the founders of Alexander Cowan & Son papermakers of Penicuik, for the people of Penicuik. The Town Hall is positioned at the historic core of the town and is not only important due to its architectural and townscape quality but also due to its civic importance, being the seat of local governance and providing accommodation to benefit the local community in terms of education, health and well-being.
Our project involved conservation works and repairs to the external fabric as part of the Penicuik Heritage Regeneration project, a Townscape Heritage and Conservation Area Regeneration Scheme, jointly funded by the National Lottery Heritage Fund, Historic Environment Scotland and Midlothian Council, and supported by Penicuik Community Development Trust and Penicuik and District Community Council. Conservation works included the sympathetic restoration of the building's stonework, roofs and windows, as well as sustainability works to improve its energy performance. The stonework to the front elevation in particular was badly weathered and covered with cement pointing.
Badly eroded stones were replaced with new from the same quarry as the original for the front and side elevations, whilst a different stone was used to match the buff sandstone at the rear. In order to conserve the front elevation some original carvings which were badly deteriorated were replaced, with the new stone carved on site and perfectly matched to the original. Existing cement mortar was raked out and replaced with a lime mortar, and moss, lichen and vegetation growth were removed from the stonework. The chimneys and bell turret were repaired and restored, and the ball finial on top of the turret was re-fixed. In recognition of the original building name, new bronze lettering was installed above the front elevation to replace the original stone carving that stated 'The Cowan Institute.'
Sustainability works addressed the energy performance of the building; replacing gas boilers that were coming to the end of their useful life with a new Combined Heat and Power boiler to reduce carbon usage. Photovoltaics were also installed on concealed roof pitches. We are proud to have delivered Midlothian Council's vision to extend the life of this architecturally and socially important local landmark, conserving the building for future generations to ensure it continues to benefit the community.
PROJECT: Penicuik Town Hall
LOCATION: 33 High Street
CLIENT: Midlothian Council
ARCHITECT: Smith Scott Mullan Associates
STRUCTURAL ENGINEER: David Narro Associates
SERVICES ENGINEER: RSP Consulting Engineers
QUANTITY SURVEYOR: Midlothian Council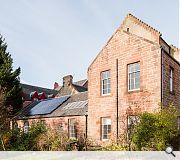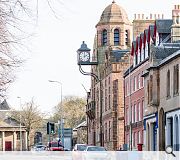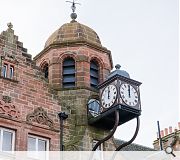 Suppliers:
Main Contractor: Ashwood
Photographer: Nadin Dunnigan
Back to Historic Buildings & Conservation