Calderwood Primary
The fantastic new Calderwood Primary in East Calder has been completed. The superb £14.3 million state-of-the art school has now been handed over to West Lothian Council, allowing pupils to attend from Wednesday 22 September. Nursery pupils will start from Monday 18 October following Care Inspectorate registration.
The project was delivered on behalf of the council by its development partner Hub South East, with Morrison Construction as the primary contractor, the same team behind the successful delivery of the nearby award-winning West Calder High School. Construction work was unable to start as planned due to Covid-19, which meant the building was not expected to be ready until 2022.However, a fantastic effort by all those involved in the construction and oversight will see pupils attending earlier than anticipated.
The new Calderwood Primary will provide non-denominational primary education for up to 462 primary and 128 nursery pupils. It is required to cope with increasing demand in the growing Calderwood Core Development Area, which is expected to see up to 2,400 new homes built, as well as associated infrastructure improvements when complete.
The innovative design of Calderwood Primary by jmarchitects has sustainability and suitability as core objectives.
PROJECT: Calderwood Primary
LOCATION: East Calder
CLIENT: West Lothian Council
ARCHITECT: jmarchitects
PROJECT MANAGER: Hub South East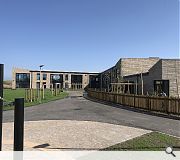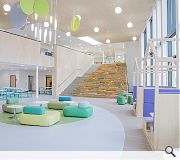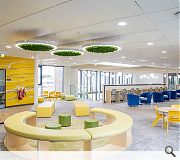 Suppliers:
Main Contractor: Morrison Conbstruction
Photographer: David Cadzow
Back to Education