West Kinharrachie Farmhouse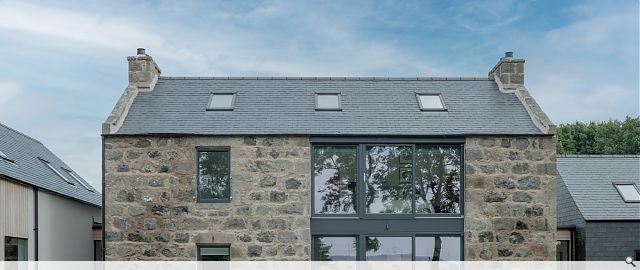 West Kinharrachie Farmhouse is located on the outskirts of Ellon in rural Aberdeenshire. When RWA first visited the building in 2018 it had been derelict and in a state of disrepair for a number of years, causing deterioration to much of the building fabric.
The project brief was to design a light and airy open plan home with clean lines and crisp detailing. The main challenge for RWA was how the original building could be adapted to achieve this favoured contemporary style.
The design solution utilises the original building as the core form, using its stonework skin but with significant modifications to the fenestration to maximise natural light into the newly formed spaces behind. New and extended gable elements at the East (integrated Garage) and West (open plan K/D/L) are connected to the original building by flat roof links, ensuring it remains the predominant form. Our design ethos at RWA is to re-use existing buildings where possible.
As is often said 'the greenest building is one which already exists.' Our project at West Kinharrachie retains in most part the original building and combined with a high performance building fabric, air source heat pump and mechanical ventilation and heat recovery system provides a whole house sustainable design solution.
The materials palette for new forms consists of sioo:x coated cladding linking the flat roof forms as a contrast to the existing granite masonry. New gable elements are defined by a slate wrap, adding to the contemporary feel of the design. The garden frontage of the building is largely glazed, not only to maximise natural light into the building but so that the mature and established garden can be enjoyed from the principal living spaces.
PROJECT: West Kinharrachie Farmhouse
LOCATION: Ellon
CLIENT: Private
ARCHITECT: Rachael Walker Architects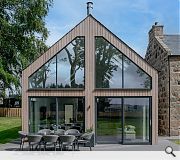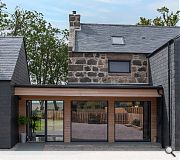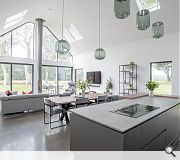 Suppliers:
Photographer: Calum Riddell Photography
Back to Housing