The David Stow Building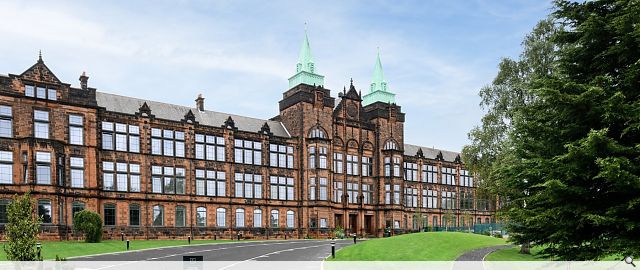 CALA Homes (West) has unveiled its luxurious new show apartment set within Glasgow's former teaching college, the David Stow Building at Jordanhill Park.
With style inspired by the lush green parkland and tranquil open space of Jordanhill Park, and the grand scale of the century-old building itself, the two-bedroom apartment is flooded with light thanks to its fully restored crittall-style windows and has an enviable view out the vistas of the parkland. The outdoor setting informs the rich colour palette, which features soft greens, earth tones and sandstone – whilst a blend of classic finishes and quirky, characterful touches play on the individuality of the apartments, showcasing how different buyers can style their chosen plots.
Standout features adorn the rooms, with two vivid wall coverings taking centre stage in each of the apartment's bedrooms – from rich, emerald-green parquet in the main bedroom and textured, leaf print paper in the guest bedroom. The open plan kitchen and living area, with views out to the parkland beyond, features moss green wall units which tie in seamlessly with the studded barstools in ombré weave fabric, whilst guests entering the apartment will be greeted with a chic vintage mirror positioned over a concrete console with sleek, clean lines.
PROJECT: The David Stow Building
LOCATION: Jordanhill
CLIENT: CALA Homes (West)
ARCHITECT: 7N
INTERIOR DESIGNER: Envision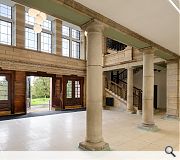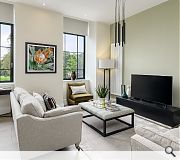 Back to Historic Buildings & Conservation