The Fruitmarket
The Fruitmarket, Edinburgh, has opened its doors for the first time since summer 2019, with its existing galleries refreshed and expanded into a large adjacent warehouse. A £4.3m capital development, it is the first project and renovation of its kind to open in the UK since the arrival of the coronavirus pandemic. A major exhibition of over 30 works including major new commissions by renowned Scottish sculptor Karla Black inaugurates the newly expanded Fruitmarket and spans the entire building comprising two gallery spaces, the new warehouse space and linking walkway.
Access into and around the building has been improved, with an emphasis placed on equality of experience for everyone. The new spaces and redevelopment have been designed by Edinburgh-based Reiach and Hall Architects and prioritise re-use and sustainability. The resulting transformation doubles the footprint of the gallery and brings the next-door building –like the Fruitmarket's original building, also a former fruit and vegetable warehouse –into active cultural use, as an expansive, inspirational space. In the original building, the essential rhythms of the rooms and the natural light that floods the upper floor have been preserved.
The spaces of the Exhibition Galleries have been simplified and their material finishes and facilities upgraded. There's a brand new Learning Studio; an enlarged Information Room, Café and Bookshop; and a simple yet commanding new main staircase. An expansion into a second historic warehouse, most recently the Electric Circus nightclub. This steel-framed, brick-lined building has been kept as raw as possible. It has been opened out by removing the upper floor and reusing the joists and floorboards rather than bringing in new materials. The resulting space will lend itself to theatre and music, spoken word and dance as much as it does to the presentation of visual art.
Neil Gillespie, Director, Reiach & Hall Architects, commented, "The original galleries are seen as a series of white spaces, abstract and precise. Surfaces are smooth and continuous while detail and material expression are suppressed. The palette in the warehouse, by contrast, is dark and sensual. It is a space that relishes the directness and crudeness of the existing steel frame, the strength and texture of the brick walls and the industrial timber floor. The mood is intense, almost visceral. As an ensemble, they offer the artist, curator and their audience remarkable contrasting and complementary spaces for art and performance."
PROJECT: The Fruitmarket
LOCATION: Market Street, Edinburgh
CLIENT: Fruitmarket Gallery
ARCHITECT: Reiach & Hall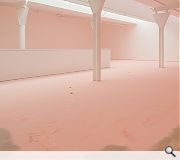 Back to Public