Buttercup Dairy
Fraser/Livingstone Architects and Helen Lucas Architects, featuring two husbands and wives across the practices, one Will Cairns doing the hard work and Davy Neave of Braidwood Construction doing the hard building.
Our new Studio takes on a shop recently occupied by the Meadows Lamp Gallery that retained glimpses of fancy tiling and stained glass from its time as one of the famous Scottish "Buttercup Dairy Co." chain.
A photo from a hundred years back showed other glories, and careful unpicking has revealed its wonderful brass, gilt and black glass sign, and the shopfront has been restored. Inside was a different story, with no desire to conserve the Aladdin's Cave interior, or lovingly restore the open-plan lavvies; and a modern, light-filled office, with a beautifully-turning stair bring light into a new, lined basement, has been created.
So we're Buttercup Studios, where wearing 1920s smocks and pinnies is compulsory.
PROJECT: Buttercup Dairy
LOCATION: Warrender Park Road, Edinburgh
CLIENT: Fraser/Livingstone
ARCHITECT: Fraser/Livingstone Architects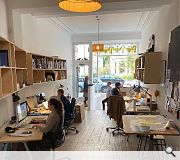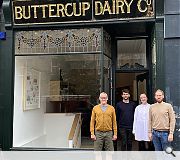 Suppliers:
Main Contractor: Braidwood Construction
Back to Interiors and exhibitions