The Kitchen

Contemporary new build restaurant on the banks of the river ness, conceived with the river frontage, the rolling hills behind, planning around a very tight site, and utilising scottish materials in its construction.
The building which sits adjacent to the river, is bounded on 3 sides by traditional buildings of little significance, the view taken in designing the new building was that there was an opportunity to lift the stakes in a part to town lacking in interest.
The form came from a desire to provide a special awareness of the river, sites opposite, the castle and allow maximum sunlight into the interior from the south and west. The materials used are of scottish origin, home grown larch, caithness stone and fabricators of the steel were oil rig fabricators.
There is little adornment and the structure is skinned in minimal additional construction - the floors for example are spanning 2" thick larch floor boards, no joists are used. The roof sarking adopts the same principle spanning the visible ribs supporting the roof skins.
The interior spaces are arranged with views to the river being available from all possible spaces. A 3 storey void separates public and serviced spaces, the kitchen is open to the void creating the atmosphere of a modern scottish banqueting hall under the vaulted roof of larch, noises and sounds percolate all levels
PROJECT: The Kitchen
LOCATION: Inverness
CLIENT: Simon Littlejohn + Catriona Bissett
ARCHITECT: Pask & Pask Architects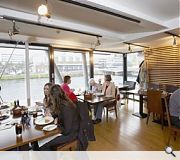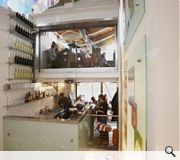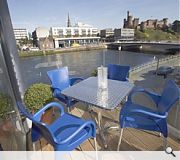 Suppliers:
Main Contractor: Morrison Construction
Timber Cladding: Russwood
Back to Sport and Leisure