The Tennent's Story
Tennent's is a Scottish institution and beer which is a world class brand. Beer has been brewed on this site since the 15th Century when Monks used the water in the Molendinar burn and the Ladywell spring. A Visit Scotland audit in 2016/17 recommended improvements to the visitor experience to TCB Ltd group, this formed the key focus for the brief.
Simon McQuarrie – interpretive design and team leader - won the creative pitch with ZM Architecture and the architectural concepts were to respond to: Create a high quality "Meet and Greet" with a dedicated accessible separate entrance. Provide a beer tasting "shrine "for visitors, adding a broader narrative experience to the existing tour. Access quality exhibits showcasing the history of the business, its heritage, its people and the Tennent's export story. Communicate the story behind Scotland's premier brewery and Tennent's worldwide reputation as a Master Brewer of new and existing brands. Appeal to Scottish and international visitors.
"The Tennent's Story". Is the story of the place, people, history, and its impact on Glasgow and globally. The installation includes interactive displays of existing artefacts, and digital technology. The Glasgow School of Art Digital design studio was commissioned to create unique animations.
We studied redundant and underused basement spaces in the existing Wellpark building and saw the opportunity to open up space over two floors with some selective demolition. A new entrance from Duke Street was created with a steel ramp suspended through the site wall and directly into the west gable of the existing basement, incorporating a separate entrance, shop. New retail space is accessed and visible from Duke Street animating the public realm. The new spaces occupy a generous internal volume and the section steps to define thematic zones referencing key pillars to the project.
The centre is used as a visitor exit into the factory area for the Brewery tour. Materials and treatment of the spaces are industrial in quality with the colour palette referencing the Tennent's brand, the famous brown bottle and Tennent's can. The visitor experience covers the production process and uses dedicated video content at key points in the tour (brewhouse, bottling, canning, kegging) to ensure the content is fully accessible and inclusive.
PROJECT: The Tennent's Story
CLIENT: Tennent's
ARCHITECT: ZM Architecture
STRUCTURAL ENGINEER: David Narro Associates
SERVICES ENGINEER: Butler M+ E design
QUANTITY SURVEYOR: NBM Quantity Surveyors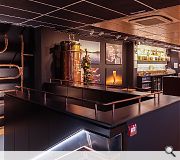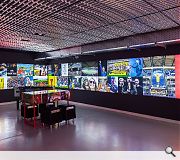 Suppliers:
Main Contractor: Morris and Spottiswood
Back to Public