Barkly House
The late 18thC merchant's house, Barkly House, lies within the conservation town of Cromarty. The 'B' Listed house stood derelict since the interior and roof were destroyed by fire in the early 1980s. Over the years the exposed stone structure deteriorated very badly and the house was included on the "Buildings at Risk" register in June 1990. Prior to any reconstruction works it was necessary to stabilise the stone shell with a substantial partial rebuild.

The clients were keen to create an efficient comfortable home retaining the character, working with the existing building constraints, and using sustainable materials. As the original house accommodation was cellular / traditional, the clients were looking to have the accommodation in the extension open plan, with generous and light spaces to accommodate present day family life.

The re-development of the plot included the sensitive repair and restoration of Barkly House together with the construction of an extension in the upper garden providing generous family accommodation. Differentiation between the old and the new is distinct yet both are unified through the use of traditional materials and similar detailing. The materials used are second hand stone to match existing for repairs; lime washed and harled walls; natural second hand slating; lead details to dormers; untreated larch cladding to the extension and timber windows doors.

The construction materials are from sustainable sources with locally sourced/ecological materials where possible. There was a strong emphasis on the specification of natural, renewable and recycled materials appropriate to a conservation context. The construction allows for breathing walls and roof with the aim of creating a well sealed but breathable building envelope. The house and extension are efficiently insulated with warmcell and the main garden elevation has a large amount of SE facing glazed areas maximising solar gain to the extension.

PROJECT: Barkly House
LOCATION: Braehead, Cromarty
CLIENT: Dr Simon Evans & Dr Jill Stoner
ARCHITECT: Maxwell & Company Architects
STRUCTURAL ENGINEER: John Addison
QUANTITY SURVEYOR: Torrance Partnership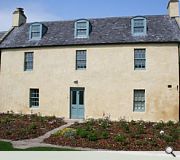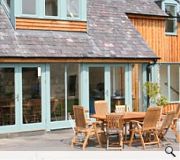 Suppliers:
Main Contractor: Nick Symonds Ltd
Cladding Contractor: Novar Tuloch
Stone Masons: Caledonia Property Maintenance Ltd
Glazing: BMJ Ltd
Flooring: Russwood Ltd
Lighting: Brian Fairman
Heating/Insulation/Ventilation: Rose & MacLean
Back to Historic Buildings & Conservation