Ballagan Holiday Lets
Clark Design Architecture was asked to design new build holiday lets by Ballagan Developments on the site of a commercial vehicle garage and repair workshop within Loch Lomond and Trossachs National Park. The stunning scenic views of the site and proximity to Balloch and Loch Lomond meant it was an ideal location for holiday rentals. Loch Lomond and The Trossachs National Park planning authority were initially reticent to allow a new development within the Green Belt. We therefore decided to design a building that looked like a converted farmstead opposed to a new build.
This led us away from the more common new build holiday let unit types within the national park which mainly consist of detached timber clad chalet type units. The hayloft style dormers, differing roof levels, coping and skew details were carefully designed to appear part of an evolved historic Scottish farm. The deliberate material choices of Scottish harling, recycled flagstone (which was sourced from the site) and slate all honour the Scottish farm steading aesthetic which went a long way to help gain approval from the planners. Particular attention was given to the courtyard and surrounding landscaping to ensure that while the development functioned as a holiday let destination, allowing the safe coming and going of customers and vehicles, it didn't appear commercial and sat comfortably within its rural context.
Planning permission was granted for the 8 steading style holiday lets and a separate manager's house. Following a year's delay due to the global pandemic the landscaping was completed in the early spring of 2021 just in time for Scotland to emerge from lockdown and the new normal of post covid Stay-Cationing to begin. The great benefit to this historic looking new build is that it is thermally efficient, benefits from low running costs and will have less of an impact on the environment due to locally sourced materials and the low carbon technologies incorporated such as air source heat pumps/underfloor heating. As the building is being retained by the client the low running costs will be of great benefit to them and help maximize profits.
This development proves that with careful design and communication with local authorities, designers can create something aesthetically pleasing, functional and profitable for their clients and that a commercial holiday let development does not have to mean "off the shelf" and that the Green Belt doesn't have to mean "off limits".
PROJECT: Ballagan Holiday Lets
LOCATION: Loch Lomond & the Trossachs National Park
CLIENT: Ballagan Developments
ARCHITECT: Clark Design Architecture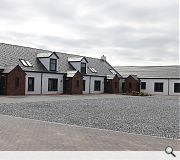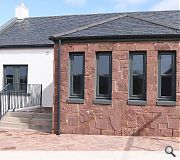 Back to Retail/Commercial/Industrial