Quarry Studios
The studio complex is sited in a former quarry, surrounded by a heavily area near the geographic centre of the Cairngorms National Park. Anchored around two concrete monoliths, the principal studio and café buildings represent the private and public aspects of practice: encouraging collaboration and concentration.
The building form has been configured to nestle into the surrounding moraine landform of drumlin and esker. Tucked into the bowl of the quarry with the roofline set parallel to the escarpment edge above, the mono-pitch roof to the front of each volume matches the side slopes of the quarry and presents a single-storey covered colonnade towards the centre of the site. The geometry of the roof planes has been established to align with sightlines from the open area in the middle of the site – minimising the apparent scale of the building.
The building is conceptually fixed in the landscape by two main elements; vertical concrete chimneys acting as a counterpoint to the low profile of the roof and a massive timber wall that intersects each volume. Around these, the hybrid steel and timber frame, aluminium roof and black timber walls are wrapped. Each internal space has an external counterpart with related characteristics; by turns introverted, expansive, shaded, private or publicly accessible depending on its function. For example, a private office combines with a partial courtyard planted with native shade tolerant species while clerestory glazing connects the studio with its roof terrace, bringing north light deep into the plan and providing views to the top of the quarry bowl and the dramatically elevated surrounding treeline.
The project involved the rehabilitation of the landscape surrounding the studio: specially sourced juniper seedlings have been planted throughout the site as a continuation of the understory in the surrounding woodland, while the roof of the studio directs rainwater into a new bog and wetland area in the centre. The site treatment represents a practice preoccupation with rewilding the settings of its projects where possible, albeit on a modest scale.
The lack of compartments in the main working areas - while also maintaining difference and privacy - is a consequence of the desire for a flat hierarchy while recognising the requirements of different activities in the space. Natural ventilation and generously spaced working areas were designed in at the outset but have taken on greater significance with current working practices.
PROJECT: Quarry Studios
LOCATION: Cairngorm National Park
CLIENT: Moxon Architects
ARCHITECT: Moxon Architects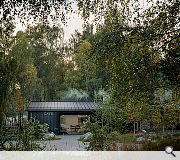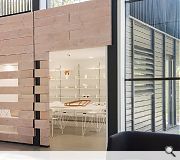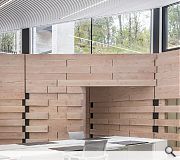 Back to Retail/Commercial/Industrial