Edinburgh's Telford College
Completed in June 2006, this newbuild campus designed by HOK International Ltd caters for an annual intake of 20,000 students and 600 staff. It occupies the site of a former gasworks in Edinburgh's Granton area, one of the principle areas of city regeneration, and provides an accessible new educational and social focus for the local community.

The building was orientated within its site to maximise passive heating potential and natural daylight availability with large windows on the north elevations providing dramatic views out across the Firth of Forth. Imaginative landscaped amenity space incorporates a pre-existing diverted culvert into a Sustainable Urban Drainage System.

In addition to general-purpose classrooms, the college provides many specialist teaching spaces for technical, scientific, sports, health and beauty and leisure studies. It also offers large social and circulation spaces including open plan offices and learning resource areas. Two notable design features are the motorised brise soleil on east and west elevations and a large social hub space with translucent ETFE roof.

Various design elements were utilised to ensure that the building is as sustainable as possible. Natural ventilation paths including atria provide cross-ventilation, the top floors have opening rooflights and windows are openable. High levels of good quality glare-free daylight are provided by north facing rooflights on top floor spaces, atria to provide double-aspect daylight, and generous floor to ceiling heights with clerestory glazing. The need for any mechanical cooling has been minimised by introducing large areas of exposed thermal mass in the form of high quality exposed concrete soffits to provide a stable internal environment. Automatically controlled windows allow night cooling of the structure. The internal spaces have been designed to facilitate future changes to layout and use and the overall design makes the future installation of solar panels photovoltaic or thermal and wind turbines an easily-achievable option.

PROJECT: Edinburgh's Telford College
LOCATION: Edinburgh
CLIENT: Ray Harris, Isabel Brown
ARCHITECT: HOK International Ltd
STRUCTURAL ENGINEER: Buro Happold
SERVICES ENGINEER: Max Fordham LLP
QUANTITY SURVEYOR: Doig & Smith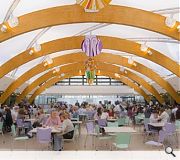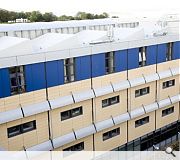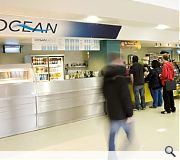 Suppliers:
Main Contractor: ISG Interior Exterior
Back to Education