Tullibody South Campus
Tullibody South Campus is a purpose-built community and educational campus delivered with the aim of achieving Clackmannanshire Council's vision of bringing together Abercromby Primary School, St Bernadettes RC Primary School, a new Early Years Centre, and local community facilities into one community campus. The project brief was developed with a clear objective; to deliver a community campus capable of providing state of the art learning facilities for the local community while providing a multifunctional and flexible council building. The requirement was for co-location of the two individual existing Primary Schools, maintaining their separate identities and operations whilst bringing the two into a cohesive single council-run campus.
The result was the creation of a locality hub which is better integrated and able to meet the needs of the community, while remaining sustainable and affordable for the Council. Nestled within an urban context, at the foot of the Ochil Hills, the campus design has been ordered with regimented clarity to maximise visual connection with the outdoors through large floor to ceiling areas of curtain walling to each school classroom. The buildings massing and scale has a low, horizontal emphasis to settle within its context and enhance the relationship with the natural qualities of the site, whilst the simple rustic buff facing brick serves to create a light and contemporary backdrop to the campus.
The complexities of the project came through both the complex brief requirements and phasing of existing school demolition, thereby informing and restricting the site placement options. This joint campus solution allows a natural journey from the nursery through to the end of primary school and the connection of these varied educational spaces was key to the design. Covered raised play areas and an internal courtyard serve to provide a variety of teaching spaces whilst providing a visual connection between all aspects of the campus and the external landscape. Tullibody South Campus demonstrates an attitude to innovative design which aims to reason that sustainability is mainstream and energy efficiency is integral to the design development process.
PROJECT: Tullibody South Campus
LOCATION: Tullibody
CLIENT: Clackmannanshire Council
ARCHITECT: Keppie Design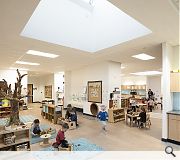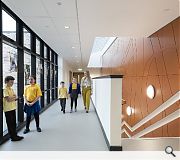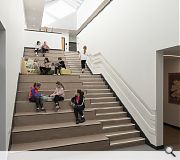 Back to Education