166 Gorbals Street
The former Linen Bank building is one of the few remaining tenements of the old Gorbals. Designed by James Salmon Junior, the category A-listed building incorporates a mix of styles that showcase Salmon's various influences and is a significant example of the confidence and individuality of the Glasgow Style.
The surrounding area had lain blighted for three decades when Southside Housing Association was finally given the go-ahead for revival of plans for the building's restoration. The building had fallen into serious disrepair following closure of the bank and vacated flats had been infested by rot and pigeons. Structural movement was affecting south gable, rear stair and eaves chimney, requiring partial reconstruction.
The refurbished building has been provided with a new lease of life, while becoming an important historical link to the old Gorbals and a cornerstone to the new neighbourhood of Laurieston. Careful restoration of the exterior leads to 6no two-bedroom flats on upper floors for mid-market rental, for younger commuters - a new generation of Gorbals residents. Externally, the building has been faithfully reinstated to its original form including reconstruction of the tower which had been lost early in its life. Original hybrid windows are replicated, decorative ironwork re-instated and shopfronts rebuilt to Salmon's original designs. As the home for the British Linen Bank, the building had provided an important role in the commercial life of the old Gorbals with many local small business owners having crossed its marble threshold. In its new role conversion to a café/restaurant will allow it to become an important social hub and historical anchor to the developing cultural quarter centred on a refurbished Citizens Theatre.
A new entrance on the north gable will link the café to the linear park that will replace the former Bedford Lane, linking to an external seating area that will provide street life to the area. The restoration has been marked by a new cast lead rainwater hopper with dates and a leaping salmon motif, an extract from the city's coat of arms and a tribute to its architect. The significance of Salmon's achievement has been further celebrated on the gable sculpture, which stacks back-lit Cor-ten steel plates, laser-cut to design of local Gorbals Arts Project and based on the stair metalwork design. Quotations from Salmon on the lowest plates celebrate his views on the life-cycle and regeneration, relevant to both the refurbished building and its new neighbourhood.
PROJECT: 166 Gorbals Street
LOCATION: Gorbals
CLIENT: Southside Housing Association
ARCHITECT: Page\Park
STRUCTURAL ENGINEER: Punch Consulting
SERVICES ENGINEER: Harley Haddow
QUANTITY SURVEYOR: NBM Cost Consultants
PROJECT MANAGER: NBM Cost Consultants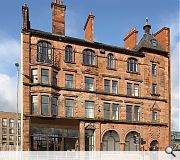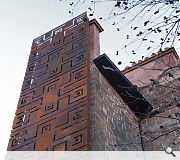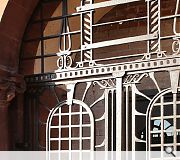 Suppliers:
Main Contractor: McLaughlin Construction
Back to Historic Buildings & Conservation