Sylvania Way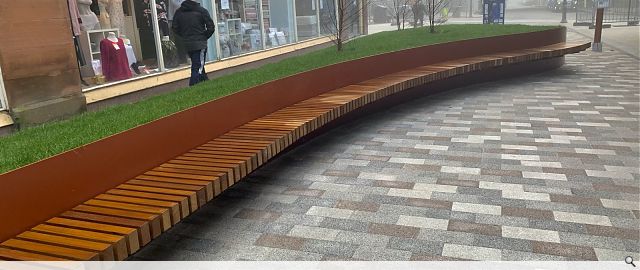 TGP Landscape Architects were commissioned by West Dunbartonshire Council to produce public realm design proposals at the access the access to the Clyde Shopping Centre from Chalmers Street.
The design proposals introduced new public realm and landscape features as part of the pedestrianised improvements between Chalmers Street and Clyde Shopping Centre. The design includes new landscape islands with seating (Kinley Systems) and paving (Hardscape) with embedded nautical heritage themes.
The project has resulted in a major improvement to the town centre, welcomed by shop owner's and local community alike. Throughout the contract, TGP Landscape Architects in partnership and Civic Engineers have worked closely with the West Dunbartonshire Council and RJ McLeod in the design and delivery of the project, to ensure that the final scheme is delivered to the highest quality and reflects the desires and aspirations of the local community.
PROJECT: Sylvania Way
LOCATION: Clydebank
CLIENT: West Dunbartonshire Council
STRUCTURAL ENGINEER: Civic Engineers
LANDSCAPE ARCHITECT: TGP
Suppliers:
Main Contractor: RJ McLeod
Back to Infrastructure, Urban Design and Landscape