Inglefield Road
DO-Architecture have just completed 49 new homes at the Northern edge of Govanhill for Lowther Homes as part of the Wheatley Group. The development provides 49 new homes for mid-market rent on the former brownfield site at the northern boundary of Govanhill adjacent to the Millennium Seed Bank Doocot by Chris Platt and Studio Kap.
Our urban response was to place a 7 storey pavilion block at the North boundary responding to the scale of the city, flanked by a 4 storey companion block at the West boundary reflecting the reduced scale of the existing adjacent tenements, as a pair these intend to re-establish the site edge and frame the existing park.
The requirement for increased density on this site was a pre-requisite to the delivery of affordable homes right on the edge of the city centre, while also sitting within the neighbourhood of Govanhill. Accordingly the open access deck arrangement gathers 5 homes on each landing and dictated that handling of these spaces was fundamental to the successful delivery of these new homes for their residents.
The open access deck enclosures are fully visually permeable, enabled by using full height vertical fins which span from floor to ceiling to provide balustrade and enclosure, but their openness offers dramatic views across the city and the penetration of daylight, creating supervised spaces where we feel comfortable to walk, stop and talk or play, ultimately encouraging social habitation and neighbour interaction.
PROJECT: Inglefield Road
LOCATION: Govanhill
CLIENT: Lowther Homes (Wheatley Group)
ARCHITECT: DO-Architecture
STRUCTURAL ENGINEER: G3
QUANTITY SURVEYOR: Martin Aitken Associates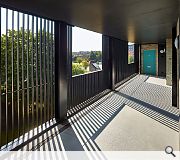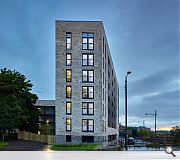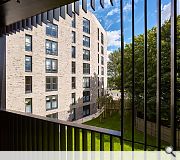 Back to Housing