The Larick Centre
Our design is comprised of a timber and glass box, which is cantilevered above the landscape, and sited on a stone wall which runs both inside and outside of the house. A meadow grass roof and simple materials palette help the building blend into the landscape, while large expanses of South-facing glass allow the house to be central-heating free. ]
A ruined outbuilding on the site will also be converted to a sauna building, offering fantastic views of Bennachie.
The site has a unique setting located at the southern edge of Tayport next to three Sites of Special Scientific Interest. In developing proposals it was important to recognise the challenges faced when designing within an area that is rich in history, flora and fauna, and the importance for new buildings to respect the wider landscape setting of the site. The new building references the site's industrial past and agricultural context through its built form and choice of materials.
Respecting the local neighbourhood in scale and geometry the simple gabled forms imbue a robust but sensitive identity within the townscape. Positioned to maximise views to the Estuary, and set back from the street to respect neighbours, the building invites visitors in through an arcade and recesses in the facade. The main circulation route runs through the core of the building linking key community and sport facilities. Circulation has been kept to a minimum by centrally locating the reception area and carving out space for informal meeting spaces and information points along the central route.
Visual connections are fostered between the main public spaces using glazed screens, providing a feeling of openness and transparency. The newly opened centre houses a large sports hall, a number of smaller halls, meeting spaces, and a café. Collective Architecture has aimed to provide the client with maximum operational flexibility, giving resilience day to day and through the life of the building, always responding to the needs of the community. The naturally lit public spaces have been designed with flexibility in mind to cater for a multitude of community uses.
The main hall's scale makes it suitable for sport, community and social events. The smaller spaces have been separated with movable walls to allow for expansion and contraction to suit varied and changing uses of these spaces.
Collective Architecture is now working with Tayport Community Trust on Phase 2, a 32 pitch campsite with a modern amenity building adjacent the Larick Centre. With both the centre and the campsite being ideally located for access to the Fife Coastal Path, Tentsmuir Forest and a national nature reserve, this community run development will encourage tourism to Tayport and be a big boost to the local economy.
PROJECT: The Larick Centre
LOCATION: Tayport
CLIENT: Tayport Community Trust
ARCHITECT: Collective Architecture
STRUCTURAL ENGINEER: David Narro Associates
SERVICES ENGINEER: RYBKA
QUANTITY SURVEYOR: Armour Construction Consultants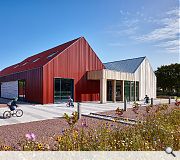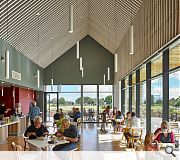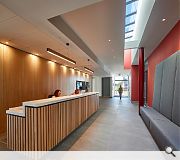 Suppliers:
Main Contractor: Hadden Group
Photographer: Andrew Lee
Back to Public