Miller Street

This project was the winning design in a limited design competition promoted by Clyde Valley Housing Association, Communities Scotland and Hamilton Ahead for a sustainable residential development of 26 units for rent on a prominent site on the edge of Hamilton Town Centre.
The design philosophy was to create a sustainable community on a particularly tight urban site. To the North of the site is a busy road with the ensuing noise and environmental pollution. The principle idea was to create an environmental barrier to the north side of the site. No habitable rooms or entrances face on to this road and each of the villa blocks has a thick super insulated timber clad wall to the street elevation. The elevations to the South have a light frame construction with maximum glazing for solar gain.
The design utilises passive and active principles, ranging from thermal walls and glazed southerly elevations to solar technology, which is used to pre-heat the water for the communal heating system. Each of the blocks has two domestic communal boilers to heat all seven flats. As part of this project we instigated a wide consultation with recognised experts of the field in energy design, sustainability and environmental matters. The Scottish Energy Strategy Group, the Scottish Executive, BREEAM and Communities Scotland were all consulted during the design process.
The energy and heating proposals were carefully considered to incorporate the active principles of sustainability together with the passive principles, which are inherent in the design. The materials specified were of low toxicity, low embodied energy and were locally sourced where possible to benefit the local economy. New materials were selected which can be recycled in the future – e.g. slate cladding and copper cladding and the possibility of using a recycled steel frame for the structure was also investigated.
PROJECT: Miller Street
LOCATION: Hamilton
CLIENT: John Turnbull, Clyde Valley Housing Association
STRUCTURAL ENGINEER: WSP
SERVICES ENGINEER: WSP
QUANTITY SURVEYOR: MacKenzie Partnership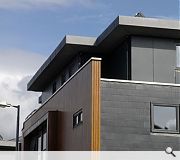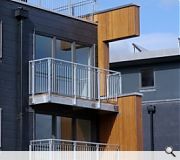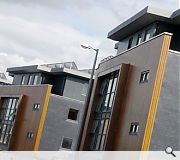 Suppliers:
Main Contractor: Kelvin Group
Glazing: Janex Ltd
Roofing: Interloc Building Solutions
Heating/Insulation/Ventilation: The Underfloor Heating Company/Passivent
Back to Housing