Queens Quay House
The regeneration of Queens Quay is one of the most ambitious masterplans currently under construction in the west of Scotland. Formerly home to the John Brown & Company shipyard, is being transformed into a mixed-use development of affordable homes, civic realm, healthcare, leisure and business and education.
The latest phase is a 23-hectare site that will soon be home to 146 affordable homes and the new Clydebank Health Centre with Queens Quay House being the first element to have been completed in autumn-2020. Delivered on behalf of West Dunbartonshire Council, the 84-bed facility has been designed to reflect modern living including special features and soft furnishings to support residents living with dementia.
The building has one 14-bedroom flat and seven 10-bedroom flats with each resident having their own en-suite room. Each flat has living and dining areas and a kitchen to allow residents to relax and enjoy a variety of environments while maintaining their independence. All of the flats have been designed with supportive colour schemes to assist those with dementia in helping identify with their home and in creating a warm and homely feel which were chosen by the residents themselves. In addition to private living space, there is a range of lounges, sitting rooms, an on-site bistro, hairdressing salon and cinema. A series of private courtyards allow residents to residents to socialise and safely enjoy outdoor space with views towards the popular local landmark, the Titan Crane.
The care home – as well as the wider Queens Quay Regeneration and local township – are set to recieve benefits from a newly-created district heating network, the largest to have been created in the UK. Powered by an on-site energy centre, water is extracted from the River Clyde and is delivered via a Water Source Heat Pump System (WSHP) which will help contribute towards a significant reduction in carbon emissions as well as delivering energy savings to the end-user.
PROJECT: Queens Quay House
LOCATION: Clydebank
CLIENT: West Dunbartonshire Council
ARCHITECT: Cooper Cromar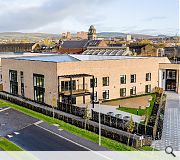 Back to Health