Mission Place
Competition winning sustainable design for 20 Frail Elderly flats with assisted accommodation and 18 houses for sale. Out reach facilities are provided in the development, with a hairdresser facility, assisted bathrooms, hobby room and larger than average dining facilities, which benefit the local community.

The main design philosophy was to create a truly integrated and sustainable development of very sheltered and housing for sale. The very sheltered unit was designed to promote sustainability and energy conscious design.

The orientation and the arrangement of the buildings and landscaping were considered during the design process in relation to: -

- solar gain / thermal performance
- air quality
- passive heating / ventilation
- daylight requirements
- creating an integrated and cohesive community
- reduction of effects of prevailing wind in terms of wind chill and heat loss.

The construction of the Very Sheltered block is based around the creation of the courtyard. The design uses passive and active principles ranging from north facing thermal walls with increased insulation, glazed southerly elevations, photovoltaic technology, and a solar water heating system. The Configuration of the building was specifically designed for the integration and orientation of solar and photovoltaic panels. The possibility of using greywater collection and a rammed earth wall, made from excavated material from site to form the north spine of the building was also investigated as part of the design process.

Underfloor heating was installed in the development. This will free up valuable space within the flats previously taken up with storage heaters or radiators. A wet system of underfloor heating provides an even and constant manner of heating the building while using less energy in the process.

PROJECT: Mission Place
LOCATION: Motherwell
CLIENT: Roger Eggins, Trust Housing Association
ARCHITECT: Hypostyle Architects
STRUCTURAL ENGINEER: T. Lawrie & Partners
SERVICES ENGINEER: D.R. Murray Associates
QUANTITY SURVEYOR: Neilson Binnie MacKenzie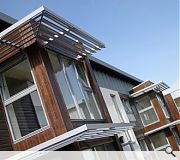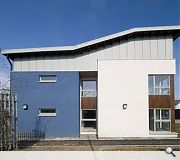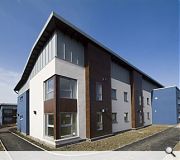 Suppliers:
Main Contractor: Persimmon Partnerships Ltd
Cladding Contractor: McCormack and Hunter
Glazing: Nordan
Roofing: MacKay Roofing
Photographer: Paul White
Photographer: Hypostyle Architects
Back to Housing