Marmalade Hotel
The existing hotel (formally known as Portree House) was designed by the prominent 19th century architect James Gillespie Graham and built between 1806 and 1810 and was originally the residence of the Chamberlain of the Macdonald Estates. The building appears as early as 1815 in a painting by the 19th century landscape artist William Daniell, as part of his Voyage Round Great Britain collection, which shows the house perched on a slope overlooking the harbour and the rocky peninsula.
This 'B' listed House is now operating as Marmalade Hotel, an 11-bed hotel run by Perle Hotels. The existing building features a recently refurbished interior, also by ICA, and takes front stage to the new 23 bed extension which has been designed to sit subserviently next it. Connecting to the rear of the existing building, the Georgian villa retains its prominence and the full harled render and stone pilaster frontage, gables and existing courtyard spaces are left untouched. Making use of the falling landscape, the extension is formed over 2 main floors the connect with the exiting building plus a lower ground floor, under a single pitch roof and falling roof line to the rear.
All but 2 of the 23 guestrooms face south and look out across views to the Cuillins, with revised reception areas and a small public space on the lower ground floor nestling into the landscape. Clad in black larch, the extension makes a bold but quiet statement: sitting on a base course of blonde stone, with a simple palette of materials and details picked out around windows in the form of projecting frames and fixed shutters.
PROJECT: Marmalade Hotel
LOCATION: Portree, Isle of Skye
CLIENT: Perle Hotels
ARCHITECT: ICA Architects
STRUCTURAL ENGINEER: David Narro
SERVICES ENGINEER: Hawthorne Boyle
QUANTITY SURVEYOR: Beyond Boarders
INTERIOR DESIGNER: ICA
PROJECT MANAGER: Beyond Boarders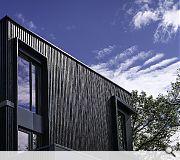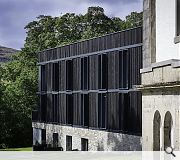 Suppliers:
Main Contractor: RK Joinery
Back to Retail/Commercial/Industrial