Pablo Fanque House
Pablo Fanque House is a new-build student residential accommodation building in Norwich city centre incorporating 244 student bedrooms plus associated social and amenity spaces.
The site provided an opportunity to close an obvious void in the urban grain and create a bold building which has a strong presence on All Saints Green and Norwich's City Skyline. The façade design is intended to create an appearance of a carved and sculpted collection of belfries.
Openings of varying proportions within a considered pattern help to visually break down the overall scale of the building mass. The fenestration introduces a hierarchy within the building - the large recessed openings signify social areas and the smaller openings reflect the more intimate bedroom spaces.
The use of pale brick of varying colour shades creates a textured yet light envelope that references a number of local historic precedents. The outcome has created a significant robust building which positively contributes to the future evolution of Norwich.
PROJECT: Pablo Fanque House
LOCATION: All Saints Green, Norwich
CLIENT: Alumno Group
ARCHITECT: Carson & Partners
STRUCTURAL ENGINEER: Conisbee
SERVICES ENGINEER: Silcock Dawson and Partners
LANDSCAPE ARCHITECT: Clarke Associates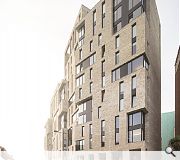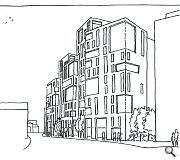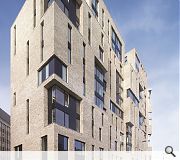 Suppliers:
Main Contractor: HG Construction
Photographer: John Kees Photography
Back to Housing