Learning Teaching Scotland

The new offices for LTS (Learning & Teaching Scotland) would be exceptional even if they were not the home of a semi government body and the result of an official procurement process. They are lively, bright and full of unusual features – a very un-governmental, un-bureaucratic environment.
Occupying 2½ floors and 2,700M² of the Optima building (the SQA occupy another 4½ floors, procured at the same time and somewhat similar fashion) the organisation has undergone a transformation in terms of corporate professionalism, but lost none of its creativity. The brief was similar to countless other organisations moving to buildings with bigger floor plates and improved efficiency, in other words "open plan without anonymity and without the potential hazards of noise and loss of privacy". Haa's solution is about strategic positioning of relatively fixed landmark objects which structure the space, provide varied opportunities for formal and informal meeting and deliberately blur the boundary between work and circulation space. The result is full of visual interest and practical sense. Having dreaded the move to central Glasgow the staff universally love their new home and speak of better interaction, improved flexibility and sense of identity.
In both visual and practical space planning terms, most dramatic is the creation of two large "pods", one blue the other red, now somewhat confusingly known as the "pink house" and the "blue house". These came about in response to the notion that the "techies" with their computer kit and paper and constant needing to come together to discuss what they were doing, needed spaces of their own. In the event the "houses" – walls with windows in them but no roofs overhead – are not just occupied by 'techies' but provide those semi-permanent barriers (somewhat like the walls of a coral reef) around which other activities like to shelter themselves.
PROJECT: Learning Teaching Scotland
LOCATION: The Optima, 58 Robertson Street, Glasgow
CLIENT: Learning Teaching Scotland
SERVICES ENGINEER: SVM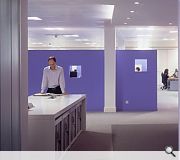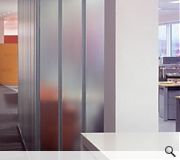 Suppliers:
Main Contractor: Elmwood (Glasgow) Limited
Photographer: Keith Hunter
Project Manager: G.V.A. Grimley
Consulting Engineer: SVM
Interiors: Incorporated Blind Systems
Back to Retail/Commercial/Industrial