Engineering Innovation Centre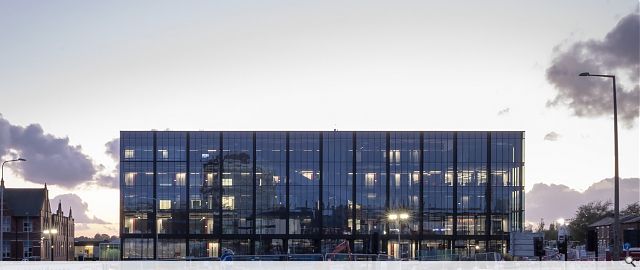 The University of Central Lancashire - Engineering Innovation Centre (EIC) is a 7000m² state-of-the-art facility, located at the heart of UCLan's Preston Campus. Its aim is to exploit the location of the University at the centre of one of the most intense engineering and manufacturing areas in the UK, and to establish UCLan as a leader in engineering innovation. The EIC will create an integrated space for teaching, research and knowledge exchange, resulting in higher education provision in Lancashire which more closely reflects the economic priorities of the business community.
The EIC has been conceived diagrammatically as two blocks, each running north–south. Facing east towards New Square, the Atrium provides the principal circulation route through the building along with break-out, social learning space and 'lightweight' teaching space [e.g. computing rooms]. Facing west, the workshop and teaching block is defined by a linear arrangement of workshops and teaching spaces. These have been designed to be column free, with floor-plates spanning from the southwest facade to the atrium edge, providing flexibility for current activities and for future changes in the teaching programme. The new EIC proposes a largely glazed façade facing New Square, providing a dynamic edge to this new vibrant public space in the city, allowing the public to view and engage with the activities taking place within.
The building adopts a progressive approach to offsite manufacture, with an emphasis on minimising waste and achieving pace of delivery - the frame is steel, floor slabs are precast and cores were precast in storey-height lifts. Applied finishes are mostly prefabricated eg. Exposed concrete ceilings with acoustic rafts, acoustic laminate wall finishes. The substantial adoption of pre-fabrication meant there was control of finishes quality. Given the building use (an Engineering faculty) the decision was made to expose all structure/M&E. This required a highly developed BIM model to enable reliable procurement of pre-finished items. The steel frame/concrete floor accommodate the diverse brief, which called for flexibility in use over the lifetime of the building, with loading/vibration characteristics for engineering laboratories and workshops.
Back to Education