Shawbridge Street
Collective Architecture, together with Loretto Housing Association and CCG Scotland Ltd, have recently completed Shawbridge Street in the Pollokshaws area of Glasgow. Shawbridge Street is a new social housing development, comprising of 42 supported, amenity and mainstream residential units occupying a site formerly resided by high-rise flats that made up part of the renowned Shawbridge Corridor.
The development contributes to the wider TRA masterplan for the regeneration of the Pollokshaws area. One of the principal challenges posed by the brief was to ensure that each unit facilitated the varying adaption requirements of the end user. This required working closely with both contractor and client to make sure that all details best suited resident needs. The design of the Shawbridge development focuses on creating a community minded future for the site.
The back courts and external balconies encourage interaction between residents and build on re-establishing a sense of community in the neighbourhood. The adjacent public park and the extension of Cogan Street helps introduce permeability through the scheme, promoting a more animated street scape as pedestrians move through the development to reach both Auld House retail park and Pollokshaws West railway station. The building's surrounding context played an equally important role in determining the schemes design and massing.
The development is bookended by two significant churches with one, the Parish Church being category B listed. To reflect the massing of the adjacent B listed Church, a step in the building has been introduced as the first block returns to form an edge to the public square in which the church is located. Recessed balconies have been introduced to help reduce the 4-storey massing at the corners, taking advantage of the south facing aspect and offering private amenity spaces for the residents.
The deep reveals, along with flourishes off Flemish bond brick detailing, help enhance the sculptural design approach and create further depth to the façade, with the speckling of black brick intertwined within the Flemish bond echoing the stone work of the neighbouring churches. We are delighted to have been part of this collaboration in providing quality, versatile homes for the Pollokshaws area. The development has received positive responses from both the client and its new residents and we are hopeful that it has managed to capture the aspirations of the local community.
PROJECT: Shawbridge Street
LOCATION: Pollokshaws
CLIENT: Loretto Housing Association
ARCHITECT: Collective Architecture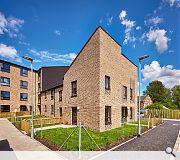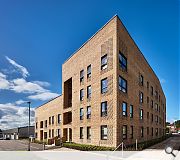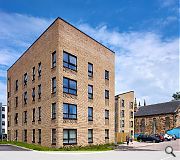 Suppliers:
Main Contractor: CCG
Photographer: Andrew Lee
Back to Housing