Malmaison
The scheme concerns the proposed remodelling and re-use of a series of adjoining properties on St Andrew Square & St David St, to form a 72 bed boutique hotel.
The site sits within the heart of Edinburgh New Town, with these town houses having most recently been utilised as offices. As prime location for a boutique hotel, the project is also within the New Town Conservation Area and the Edinburgh World Heritage Site. The Proposal involves the sensitive conversion of a listed building into a series of active public spaces at street level and bedroom accommodation on upper levels.
A sensitive new build extension within the existing courtyard provides additional front of house space and key operational linkages while ensuring that the form and character of the existing space is retained. A further key move in the design is the insertion of an extension within the courtyard, providing a solution to the front of house issues and unlocks the plan, providing connectivity between the two active facades. The proposed kitchen is also located with the basement of the courtyard extension to relieve servicing pressure from the existing listed building.
From this point original principle rooms are largely kept unaltered, either utilised as reception rooms or large, grand bedroom suites. All the necessary servicing of modern hotel rooms are sensitively concealed in voids, through a high level of design coordination and innovative energy modelling, prior to site start. The rear property within the project had been subject to facade retention works in the 1970s. Here a more pragmatic approach to hotel design was adopted, with a mix of bedroom sizes and large glazing employed to offer unrivalled views of the National Portrait Gallery and the Firth of Forth beyond. The new façade derives its height from the gable end eaves of 2-5 St David Street and is set back from the end gable to preserve the hierarchy of the existing building. The proposed fenestration of the prefabricated cladding elements and Glazing were given a vertical emphasis to reinforce the identity of the Georgian New Town.
Each intervention will also share a consistent three part visual language which is appropriate for the location; Primary Frame; A Glazed volume; A Strong Base. The resultant design for both the rear elevation and courtyard extension proposes a simple palette of materials, with the new facades composed in anodised aluminium cladding panels and glazed units.
PROJECT: Malmaison
LOCATION: St Andrew Square, Edinburgh
CLIENT: S Harrison Developments Ltd.
ARCHITECT: 3DReid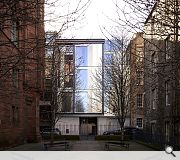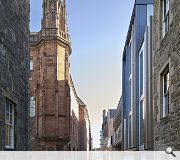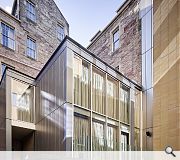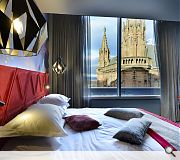 Suppliers:
Photographer: David Cadzow
Back to Retail/Commercial/Industrial