McGrath Opticians
When we first met Michael McGrath, owner of McGrath Opticians of Byres Road, he spoke of his days as a young optician and how spectacles were dispensed. In bygone days, opticians were not permitted to advertise in any way, hence glasses were concealed in drawers or cupboards. We wanted to reconnect to the history and the feelings of the good old days of optometry by infusing the experience with a dose of luxury that reflected the service and calibre of spectacles that the team source and sell.
This was achieved in a number of ways such as the creation of a bespoke wallpaper with a repeat pattern of spectacles in addition to upgrading their logotype.
Perhaps the most endearing, and I would say, special part for us as we gained a greater understanding of the client team, was discovering that Michael's 'thing' is people; he is the archetypal Glaswegian. Michael genuinely cares and is very interested in his team, clients and first-time visitors to the shop. He was a pleasure to work with because he exudes an engaging charm. We therefore needed to create an environment and palette of materials that matched both his warmth and bonhomie.
PROJECT: McGrath Opticians
LOCATION: Byres Road, Glasgow
CLIENT: Michael McGrath
INTERIOR DESIGNER: Supertonic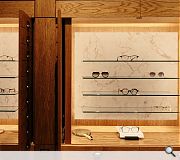 Suppliers:
Main Contractor: Emwood Projects
Photographer: Martin Vrsal
Back to Interiors and exhibitions