Mesart - hair salon
When Stuart Whitelaw, owner and founder, of Mesart Hair Salons contacted us to help with their new ' super salon' we excited to hear the brief: to create 'instagramable spaces', and secondly, to provide flexibility without looking temporary.
We stripped out the building at an early stage so that we could see what the existing shell had to offer. Our plan from the outset was to utilise as much of the existing envelope as possible. We only sheeted or re-clad areas if we absolutely had to, which was usually only in order to meet building regulations.
Just as we were starting the construction phase we had a progressive collapse of the roof. This resulted in an immediate mobilisation of a demolition team to stabilise the building and the removal of the existing roof commenced.
Within the new salon roof we inserted large roof lights to allow the space to be naturally lit most of the time. Although this cost more than was anticipated at the outset of the project, this will be off-set over time by the savings which allows the client team to switch off 50% of the lighting for 80% of the year. Even on a dull day, the ambiance in the salon is fantastic.
All twenty stations have retractable mirrors which, of course, allows the team to cut and colour hair; however, when the mirrors are elevated, then the team can run training sessions, hold product launches and entertain larger groups, (post social distancing rules), of course. Our client has a partnership with a local beauty salon which allows them to offer more services under one roof. Having the ability to raise mirrors means that a nail technician, for example, can set up across from a guest without disturbing or moving anyone.
There are also several other small design elements that were fun to realise. We nestled the wash stations off to one side away from the busy thoroughfare. In addition, we orientated them like aeroplane business class seating so there is choice around privacy. The door handles are giant scissors and we have a 3D printed giant working hair drier that blasts a pop of air at people as they enter and leave the salon.
PROJECT: Mesart - hair salon
LOCATION: 234 Great Western Road, Glasgow
CLIENT: Stuart Whitelaw
ARCHITECT: Organic Architects
STRUCTURAL ENGINEER: Cowel Associates
INTERIOR DESIGNER: Supertonic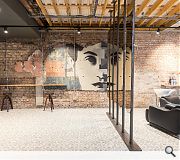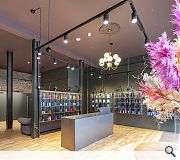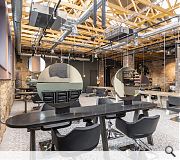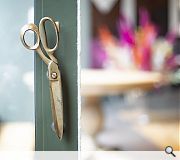 Suppliers:
Main Contractor: The JR Group
Photographer: Heather Yates
Back to Interiors and exhibitions