Garden Room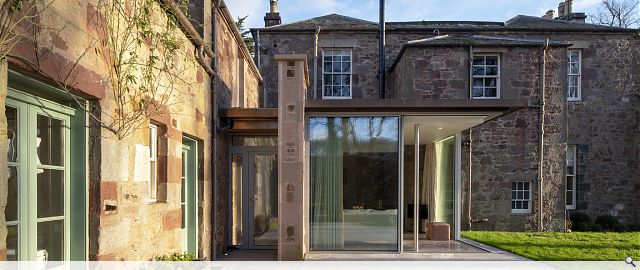 The extension was carefully considered in order to appear contemporary whilst remaining subservient to the existing character of the B-Listed Georgian mansion set within a conservation village. Sliding glazed walls form the perimeter of the extension, and the exposed, existing stone walls create the sense that the room belongs more to the garden than to the house. Frameless, 'glass to stone' skylights offset the roof from the house, following the pitch of a former offshoot, and flooding the space below with abundant natural light. A fin wall is located at the end of this rooflight 'corridor', formed in masonry reclaimed from the downtakings. This wall acts as a strong vertical element, referencing the construction of the existing building as well as framing views outward and delineating a pathway between a new aluminium framed, single, rear entrance door and the new openings through to the main house. The main glazed facades of the extension can slide away from the corner to create a large opening allowing the physical and sensory barrier between house and garden to vanish entirely. Stone tile flooring runs uninterrupted from outside to inside to further blur the transition from house to grounds. From above, the sedum roof of the extension visually allows the garden to extend right up to the external walls of the listed structure.

The highly glazed, 'lightweight' room contrasts with the heavy, solid masonry walls of the existing house. The toning copper fascias and soffits, exposed red sandstone and a newly installed wood burning stove create a room in the garden which has a sense of warmth to it and encourages the user to dwell. A solitary steel column is set back from the glazing line, and with help from the sandstone fin-wall is the only recognisable support to the roof plane creating a lightness of touch.

Our clients are delighted with their new living space and its connection with the adjoining kitchen, now the most used spaces in the house. The room allows the users to simultaneously appreciate the solidity of the historic house and the beauty of the outlook during the best and worst of the Scottish weather!

PROJECT: Garden Room
LOCATION: East Lothian
CLIENT: Private
ARCHITECT: David Blaikie Architects
STRUCTURAL ENGINEER: David Narro Associates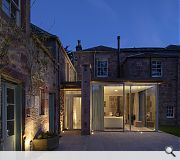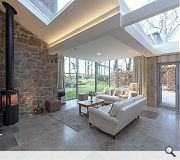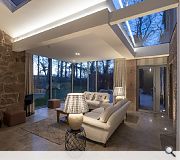 Suppliers:
Main Contractor: Attadale Builders
Photographer: Paul Zanre
Back to Housing