"Wooden House" - The Gellan
The Wooden House lies in an area called "Gellan", to the south of the Water of Feugh near Banchory, Aberdeenshire. The existing site has 2 buildings on it. These buildings include a steading/house and a small bothy. The proposed new dwelling is located South of the existing steading with the principal elevations to the east, south & west, taking advantage of south light and views towards the hills.

The design incorporates elements reminiscent of older agricultural buildings common in the area. The dwelling comprises of natural cladding materials with both a rusty Cor-Ten and grey corrugated roof. An L-shaped plan provides generous accommodation and living spaces whilst keeping the buildings footprint to a minimum and allowing for a secluded area to be formed in the garden.

The main body of the house, running North to South with a 45º roof pitch and roof windows, makes up the primary accommodation and living spaces. A formal lounge protrudes from this to the west and takes advantage of the evening sun using a glazed gable. The lean-to section houses a garden room and an additional living space adjoining the kitchen. Both of these areas benefit from the southern and westerly aspect.

The building envelope is clad in Siberian Larch and is vacuum coated with a Mid Grey SiOO:X treatment. This, along with the roofing materials, provided a direct link to vernacular barn style buildings, specifically the original corrugated lean-to that was once adjoined to the steading building.

This building uses a Scotframe Val-U-Therm timber frame with detailing that increases air tightness, in turn reducing heat loss, cold bridging and the associated CO2 footprint and energy bills. An air source heat pump is the primary heating system for this dwelling working with a wood burning stove.
PROJECT: "Wooden House" - The Gellan
LOCATION: Strachan, Banchory, Aberdeenshire
CLIENT: Private
ARCHITECT: Fiddes Architects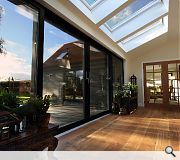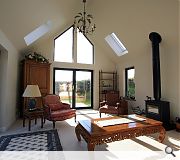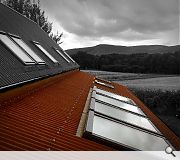 Suppliers:
Main Contractor: Scott Duthie Joiner
Back to Housing