The Bridge Arts Centre

Gareth Hoskins Architects won an open competition in 2000, to design a new arts and community library with life long learning facilities for Glasgow City Council (GCC). The new centre, Platform at The Bridge, provides a naturally ventilated auditorium space, rehearsal workshops, recording suites, education and gallery spaces, café and local community library.
Rather than create a freestanding 'arts centre' the design nestles the new facilities between existing public swimming pool and further education building, John Wheatley College, to form the Easterhouse Cultural Campus, collectively known as the Bridge.
The project, now adopted as a model for GCC's Cultural Strategy and also designated as the home of the newly created National Theatre of Scotland, aims to create a public meeting place, with new library conceived as a street surrounded by the activity of the new facilities and linking between the pool, college and out to the surrounding streets.
Funded by a range of sources including local government, Scottish Arts Council Lottery Funding and European Regional Development Fund, the project challenges the notion of a traditional 'arts' building to create a new focus for people within one of Glasgow's peripheral housing estates to engage with and take park in the arts. The aim is that the building will promote the arts as well as helping to stimulate the regeneration of the area.
The building form, dictated by the shape of the site, is that of a simple rectangular timber box housing the auditorium, adjacent to the double height triangular volume of the library. A restrained palette of materials – timber, concrete, glass and aluminium is used throughout, allowing bright accents of colour to be accommodated in key areas such as the auditorium.
Within the library space, roof lights at the head of the columns, help bring brightness into the depth of the plan and give the appearance of a lighter, floating roof. These same roof lights are opened and closed by the Building Management Systems to provide natural ventilation. The Auditorium is also naturally ventilated by means of 6 tall "chimneys". When there is a performance in progress, these chimneys will be lit up, providing a visual signal and cultural beacon to the neighbourhood and beyond, that Easterhouse is "on stage" tonight.
PROJECT: The Bridge Arts Centre
LOCATION: Easterhouse, Glasgow
CLIENT: Glasgow City Council
ARCHITECT: Gareth Hoskins Architects
SERVICES ENGINEER: Max Fordham LLP
QUANTITY SURVEYOR: David Langdon
LANDSCAPE ARCHITECT: Gross Maxx
PROJECT MANAGER: Capita Symonds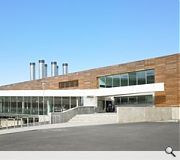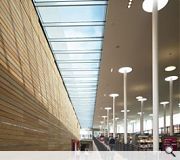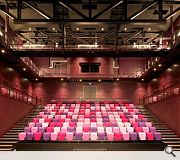 Suppliers:
Main Contractor: Kier Scotland
Back to Public