Comunn Eachdraidh Nis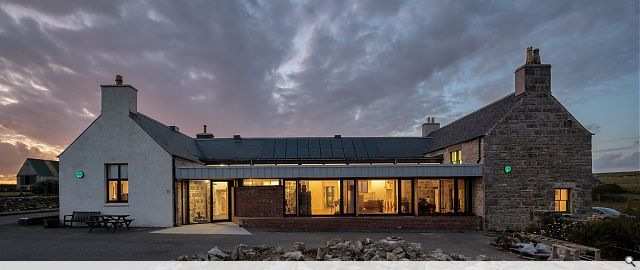 Comunn Eachdraidh Nis, on the Isle of Lewis, has been given a new lease of life following an extensive restoration, reconfiguration and extension project. The original Cross School buildings were constructed in 1879 and had been vacated in 2011 when the local Historical Society moved into the redundant spaces, some which were proposed for demolition. The public have now moved back into the building following the construction phase.

BARD were architects and lead consultants on the £810,000 project constructed by main contractors Neil Mackay & Co. The scheme re-orders the clusters of functions across the buildings and re-modelled where required, allowing greater flexibility of use. Some partial incisions were made, with extensions added to create an open frontage whilst still allowing light to penetrate deep into the plan.

The new buildings vary in height, ensuring the parent volumes remain dominant whilst also providing a spatial sequence that is additive in nature. The fenestration pattern was, wherever possible retained and adapted to form new access points where required whilst ensuring the pattern of former use is still present.

Red brick screens were inserted to add depth and solidity to the new constructions, in harmony with the masonry construction of the existing building. The brick is banded in traditional Scots-bond, recalling the nearby Butt of Lewis lighthouse and the former, but lost, brick tradition on the island. These elements are repeated to create display stands for artefacts such as the c. 10th century Rona Cross, which sits at the heart of the new museum space.

Bespoke fixtures and fittings including Smetal shelving, gates were designed by the architects and deployed throughout major spaces, contributing to a harmonious vocabulary of elements. All of these features were undertaken by local trades and craftspeople.
PROJECT: Comunn Eachdraidh Nis
LOCATION: Isle of Lewis
CLIENT: Comunn Eachdraidh Nis
ARCHITECT: BARD
SERVICES ENGINEER: Greenspace
QUANTITY SURVEYOR: IMQS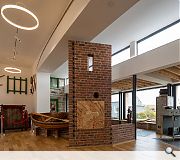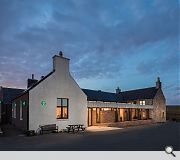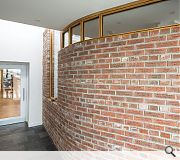 Suppliers:
Main Contractor: Neil Mackay & Co
Photographer: John Maher
Back to Public