Lygon Road
Our clients were seeking to better link the living spaces of their house with the garden beyond, the challenge was realised through the addition of an extension and internal remodelling.

The extension is simple in form; an expressed roof plane supported at one end on the existing building and at the other end on a new monolithic vertical support. Lightweight unframed glass provides the enclosure. The flat roof light above gathers more natural light into the dwelling whilst adding additional height to the space. A timber clad extrusion, centrally located on the west elevation creates a focal point within the extension, while breaking up the fixed glazed element. New external paving forms a clean transition between extension and garden, creating space for external seating while still retaining a large area of external garden beyond.

The two rear rooms within the existing house were brought together to form a large kitchen/dining room to enable these living spaces to harness the light and the garden views that the extension has made available.

The existing off-shoot has been re-worked with the formation of a larder and laundry space, equipped with new glazing and openings to connect to the extension. A new staircase has been introduced to provide new access to the existing bedroom/study above.
PROJECT: Lygon Road
LOCATION: Edinburgh
CLIENT: Private
ARCHITECT: David Blaikie Architects
STRUCTURAL ENGINEER: Christie Gillespie Consulting Engineers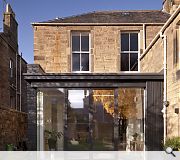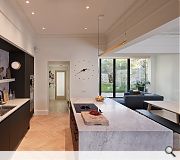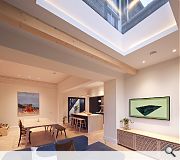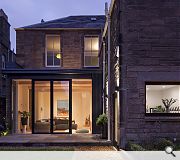 Suppliers:
Main Contractor: Carlsson Properties
Photographer: David Barbour
Furniture: Blackbox Furniture
Glazing: Mitchell Glass
Back to Housing