Jesuit Residence and Spirituality Centre

This latest addition to the campus of St. Aloysius College brings together two independent but related facilities back within the St. Aloysius fold. On ground floor, the Spirituality Centre caters for the neighbouring College and local community, providing religious education and counselling services. A small conference facility, a prayer room and interview rooms are included. The Residence, a large house for up to 10 priests and their guests occupies the upper 3 floors, entered separately from Hill Street. This incorporates a small chapel, visible as a tall timber box to the rear, reception and dining around an internal double volume, and upper lounge leading to roof terrace.
Located at the highest point of Garnethill, it marks the end of a long run of sandstone tenements to the west and the transition to the sizeable educational and ecclesiastical quarter of Garnethill, comprising St. Aloysius College and Church, and The Mackintosh School of Art. The building completes the gateway intended by the College's Clavius building opposite.
The Residence seeks compatibility with the buildings, massing, and integrity of this Conservation Area as a confident, modern proposal. The building is four storeys, stepping back on the upper floor to reveal the generous sun terrace, the issue of massing resolved by framing this with a crisp concrete surround which responds to the streetscape. The Spirituality Centre on ground floor cuts into the steeply sloping site to create a distinct relationship and entry from Scott Street.
As with the Clavius Building, the Residence presents a panelled concrete gable to Scott Street 'book-ending' the long run of tenements and marking its civic nature. On Hill Street the rhythm and vertical emphasis of the tenements are respected but not aped by the bedroom windows, their proportions within the sliding white masonry panels clearly representing the buildings other purpose.
PROJECT: Jesuit Residence and Spirituality Centre
LOCATION: 70 Hill Street, Garnethill, Glasgow
CLIENT: Trustees for Roman Catholic Purposes
ARCHITECT: Elder & Cannon
STRUCTURAL ENGINEER: Arup Scotland
SERVICES ENGINEER: Hawthorne Boyle
QUANTITY SURVEYOR: Ross & Morton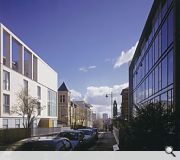 Suppliers:
Main Contractor: Chard Construction
Photographer: Keith Hunter
Stone Masons: Plean Precast
Glazing: Solaglas
Roofing: McKay Roofing
Interiors: Avonhill
Mechanical & Electrical Installations: Weir & McQuiston
Back to Education