Bertha Park High School
Bertha Park High School was designed by Architects NORR and completed in July 2019. Created for Perth + Kinross Council, the building was delivered through Hub East Central Scotland and built by Robertson Con-struction and it is the first entirely new school in Scotland for 25 years; it does not replace an existing building, but rather provides an entirely new facility which extends the secondary provision of the city of Perth.

Based on a radical brief developed in conjunction with the Council and SPACE Strategies, the building has been designed to give equality of the user and learning experience to all of its occupants in an entirely seam-less way, and in a form which is conducive to a cohesive and collaborative learning experience. Consequently its design delivers a wide variety of spaces of varying scale and character, it erodes the corridor and fully ex-ploits the use of natural light, delivering an accommodation mix that is considerably less than the relevant SFT metrics. In this way the building provides not just enhanced value for its learners, but also demonstrable value for the public purse as well. The school is compact and efficient yet still contains spaces of undeniable gran-deur.

The project's intrinsically sustainable, thermally efficient form is complemented by a simplicity of construction detailing in such areas as the roof (where there is only one roof plane and 7 water outlets) the repetition of common window components, and the controlled use of a limited palette of materials, creating a simple, ele-gant and highly civic exterior which contains a spatially rich and educationally interesting interior.

Arranged on a north-south axis, the school presents a taller, more formal, and highly glazed frontage to the north which attractively puts learning on show to its wider community whilst, in contrast, the lower scaled southern end of the building provides access to the schools' main social area from its south-facing play-ground which enjoys links to its residential context. This approach has allowed the school to successfully ma-nipulate its scale to sit successfully within a lower scaled emerging townscape.

The Headteacher Stuart Clyde has been in the enviable position of being able to recruit every single member of staff to help him deliver a fully digitally enabled curriculum, starting in August 2019 within this new, highly contemporary and genuinely radical learning environment. Consequently Bertha Park is one of only 17 schools in the world that form part of the Microsoft Flagship Initiative, and the only one in Scotland to date.

PROJECT: Bertha Park High School
LOCATION: Adamson Avenue, Perth
CLIENT: Hub East central Scotland / Perth & Kinross Council
ARCHITECT: NORR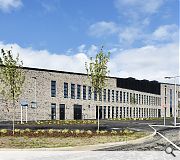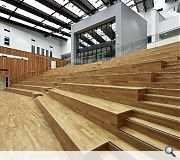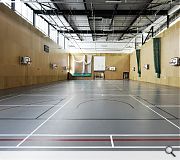 Suppliers:
Main Contractor: Robertson Construction
Back to Education