Dundashill
Dundas Hill (also known as 100 Acre Hill) is one of the highest drumlins that give Glasgow its distinctive topography and urban form. The innovative regeneration of Dundas Hill takes a long term, sustainable approach to the future transformation of the former Diagio distillery site through the commissioning of a development masterplan and the advance implementation of a green infrastructure framework. Taken together, the masterplan and green infrastructure will shape the future development of up to 620 new homes, embedding the creation of distinctive places at the heart of the new neighbourhood.
The masterplan informed the green infrastructure framework that has recently been completed,
This framework includes;
• a network of new public spaces, streets and footpaths that repurpose the site infrastructure and enhance pedestrian connectivity;
• an innovative SUDS network of swales, rain gardens and basins expressed in the public realm;
• a new 'canal' on the southern edge of Plot 1 that plays a key role in managing the surface water drainage via a smart technology activated drainage connection allowing storm water to discharge into the Forth and Clyde Canal;
• an extensive framework of woodland planting, street trees and shelter belts to further define individual development plots and improve micro-climate;
• incorporation of several remnants of the industrial history into the public realm such as the vast concrete 'bunker' and brick retaining walls;
• reshaped landform to create a series of usable amenity spaces that can be further developed over time for active play and recreation.
The innovation and collaborative approach to the regeneration continues via the commissioning of a series of studies for Plot 4A to rethink terraced housing by Glasgow based architects

PROJECT: Dundashill
LOCATION: 100 Acre Hill, Glasgow
CLIENT: Bigg Regeneration
LANDSCAPE ARCHITECT: Rankinfraser Landscape Architecture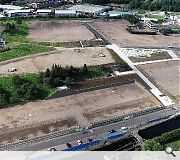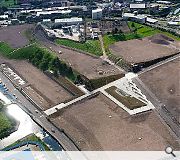 Back to Infrastructure, Urban Design and Landscape