University of Edinburgh Library Collections Facility
The University of Edinburgh's main Library Collections facility, at South Gyle, required an upgrade and refurbishment of a newly acquired storage unit, which was located within the existing annex building.

This new facility was specially designed to provide additional storage for the University's extensive library, cultural and heritage collections.

The upgrade of the new unit provided the University an opportunity to deliver a facility which meets the stringent environmental conditions required to house special collections items and accommodate them in storage units, which would allow for ease of access and ensure their safety and longevity.

Previously - Musical Instruments and Art had been stored in a space with a temperamental environmental condition and canvases were stacked in unsuitable shelving units - the ambition was for a more serious and professional archiving situation.

The existing building was a steel frame warehouse building which was originally constructed in 1979. By upgrading the envelope and providing a fully secure facility, as well as addressing any risks of flooding or water ingress - the project was able to create an environemnt that met the specific storage needs of the special collections. The addition of state of the art mobile shelving and roller racking will now transform the university's storage capacities and productivity, to help extend the usefulness of this facility in their growing estate.

At 1800sqm - the storage facility consists of two units on the ground and first floor. The units provide separate controlled environment storage areas so that temperature, levels of humidity and lighting can all be adjusted to protect and conserve the items being stored. These include books, journals, archives, manuscripts, letters, heritage collections, historic musical instruments, artworks and museum objects.

Covering everything from medieval manuscripts to contemporary art, the unique combination of collections are an invaluable resource for teaching within the University and attract researchers from around the world.

PROJECT: University of Edinburgh Library Collections Facility
LOCATION: South Gyle, Edinburgh
CLIENT: University of Edinburgh
ARCHITECT: Reiach & Hall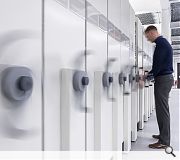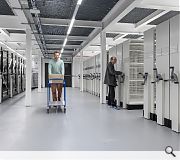 Back to Education