Sikorski Gardens
As a well known local landmark, the 'Big Polish Club' that occupied the site had fallen into disrepair over a number of years since its closure as local social club. Whilst the original building did have a strong presence it did not relate to the context which had built up around about it over the years and had sadly gone past the point of saving. Tasked with a brief to maximise the redevelopment of the site for GRS Homes, Arka designed a proposal which essentially formed a courtyard development of 5 houses.

This was a mix of 3, 4 & 5 bedroom properties. The houses themselves present their gables to form the 'street' whilst at the same time stepping back from each other to allow for light to filter between them.

Due to the prominence of the gable elevations these were modelled to allow for the inclusion of the entrance porches as recessed elements and alsoto inform the articulation of the elevation in a such a way as to reduce the perception of the 'traditional' gable form.

PROJECT: Sikorski Gardens
LOCATION: Falkirk
CLIENT: GRS Homes
ARCHITECT: Arka Architects
STRUCTURAL ENGINEER: Forward Engineers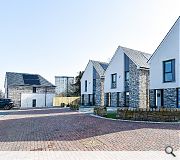 Suppliers:
Main Contractor: GRS Homes
Back to Housing