Oban North Pier Harbour Building
The Oban North Pier Harbour Building is located on a prominent site, on Oban's North Pier and forms part of the Argyll & Bute Council's wider public realm regeneration of Oban's High Street and Waterfront.

The building provides office space for the North Pier's Harbour Master, as well as tourist information and support facilities for the recently completed Pontoon birthing extension. Accommodation includes shower, locker and support facilities for people arriving in Oban by boat, ferry, yacht or kayak. A small commercial unit with a separate entrance is also included on the ground floor.

Site restrictions within the working pier environment determined the building's potential footprint, whilst the party wall to the existing Listed hotel building adjacent, determined the height. Design intent was to provide a commanding key view for the Harbour Master across the new pontoons and to all vessels approaching and exiting the harbour into the bay beyond. The Harbour Master is cantilevered out over the main entrance, creating drama and public shelter against the ever-changing climate.


PROJECT: Oban North Pier Harbour Building
LOCATION: Oban
CLIENT: Argyll & Bute Council
ARCHITECT: Oberlanders
STRUCTURAL ENGINEER: Capita
SERVICES ENGINEER: Harley Haddow
QUANTITY SURVEYOR: Capita
PROJECT MANAGER: Capita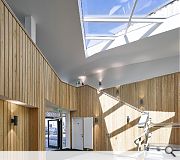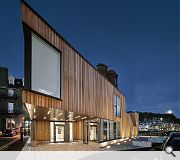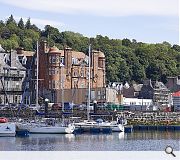 Back to Public