The Fishmarket
The Fishmarket restaurant brings to life an unused portion of the historic Grade B listed Victorian Fishmarket at Newhaven in Edinburgh. An insertion of a restaurant to the front façade, with the relocation of the existing fishmonger to the rear part of a pier-side development at Newhaven harbour.

3DReid designed the interiors of The Fishmarket, developing the concept, interior branding and design for an upscale seafood restaurant along with the architectural refurbishment within this Grade B listed building.

With its huge floor-to-ceiling windows looking out over the harbour and minimalist tiled decor, a classic metal takeaway counter and, beyond that, a simple dining room. The interior reflects the Victorian heritage of the building and surrounding neighbourhood with emerald tiles, brass fittings and soaring rafters. Outside is all about the view, with fishing boats, the landmark Newhaven lighthouse in the foreground and the three bridges of the Forth.

Over the years the economics of the fishing industry have changed and as a result, the traditional fishmarket operates to a lesser extent but the original atmosphere has been retained.

The proposed building use for the scheme was to retain its historic use as a fishmarket, support the existing fishmonger and engage with the public, through a new seaside eating experience.

The scheme is designed to be respectful of the existing listed features, with the external arched bays refurbished with new glazing. Vertically glazed fanlights were also reinstated within each bay. Internally, the existing cast-iron pilasters, the central row of square cast-iron piers carrying a steel beam and the steel Polonceau truss roof are all exposed within the restaurant to offer diners an understanding of the building's heritage.

Particular challenges were presented by the servicing of the restaurant however, carefully considered design solutions ensured that these were achieved sensitively into the scheme.

The Fishmarket was completed in May 2018 and is a collaboration between Roy Brett behind Edinburgh's acclaimed seafood restaurant 'Ondine' and his long-time supplier 'Welch Fishmongers'.
PROJECT: The Fishmarket
LOCATION: Newhaven, Edinburgh
CLIENT: Roy Brett & Gary Welch
ARCHITECT: 3DReid
STRUCTURAL ENGINEER: Cundall
SERVICES ENGINEER: Cundall
INTERIOR DESIGNER: 3DReid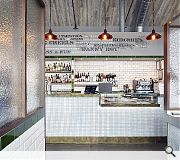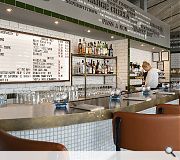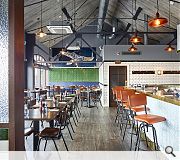 Suppliers:
Main Contractor: Insitu Fabrications
Photographer: David Cadzow
Back to Interiors and exhibitions