TrägerHAUS
TrägerHAUS is a private dwelling that embodies the traditional aesthetic of its context, with an ambition to create a dynamic and responsive architecture that exists synonymously with its location. Situated on the periphery of the Upper Whitecraigs' Conservation Area of Glasgow, the plot is bound by the northern rail link to Glasgow to the North and Cathcart Castle Golf Club to the east, with a sharp 6m fall across the extents of the site. The development plot was land that originally formed the garden of the Upper Apartment at 39A Ayr Road, a Victorian house, owned by our client Linda and James Laws.

James, a founding director of Interspan, a global post-tension concrete firm, and his wife Linda Laws had approached HAUS to create an ambitious family home in Glasgow. Both Linda and James had a daring brief for their new home motivated by their family history in Scotland, coupled with their experience and passion for time shared together in Australia.
It was HAUS' commitment and energy for Glasgow and their design ethos that drew Linda and James to them. HAUS, fascinated by the dual principles of continuity and contrast, produced a series of physical models, testing design concepts, which sought to bound the architecture to the landscape and locale whilst pushing the expression and detailing in a distinctively contemporary form.

Initial inspiration came from traditional single form Scottish dwellings. Born out of a desire to create complementary contrast, HAUS designed a modest entrance elevation to be read as an outbuilding of the original house with no fenestration and simple materials of Caithness Stone, Slate and Siberian Larch timber contemporarily detailed to form a restrained street elevation that belies the more radical cascading forms that front the golf course.

Beyond the composed, discreet entrance, visitors are received into a three-storey top lit, post tensioned, stone staircase. This central circulation piece serves as the primary way-finding element, drawing visitors down to the main living space where an uninterrupted kitchen, dining and living space stretches out to the gardens and terraces beyond.

An over sailing cantilever holds the master bedroom in suspension above the external living terrace, providing elevated south-easterly views across the golf course and seclusion from the rest of the house. At the lowest level the majority of the sleeping accommodation prevails. Arrestingly simplistic, each monastic bedroom opens directly to the protected lower gardens through a full height glazed sliding wall. The depth of the lowest level whilst buried within the topography, houses the retreat spa for quiet contemplation.

TragerHAUS has been lovingly designed not just as an investigation in spatial variety, and sequencing of internal spaces, or unrepentantly as the pursuit of architectural joy by crafting how the materials, light, route and space have been carved and composed, but its hopeful success lies is in its embodiment of a family home.

PROJECT: TrägerHAUS
LOCATION: Ayr Road, Giffnock
CLIENT: Mr & Mrs James Laws
ARCHITECT: Haus
STRUCTURAL ENGINEER: Goodson Associates
SERVICES ENGINEER: atelier ten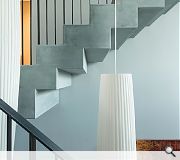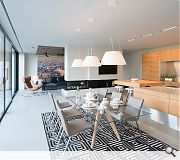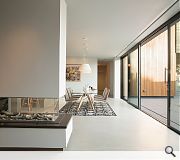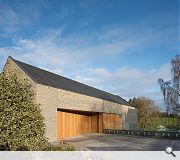 Back to Housing