West Calder High School
All of our buildings are designed from first principles and West Calder is no different. Despite an educational brief which is similar to our new secondary school in Perth, the West Calder design is again a unique response to a unique site. It couldn't be anywhere else. Its form is inspired by the agricultural and industrial heritage of the area, its roof-scape echoing the angular forms of the nearby 5 Sisters Shale Bings, and containing below it a wide variety of interesting spaces of varying scale and character washed with natural light.
The deep plan, split level form of the school is also based on an innovative brief from which its exciting learning spaces are directly derived. Its design was the subject of creative collaboration with the Council's team, our architectural ambition reflecting the client's aspirations for a high-quality educational environment that is genuinely stimulating for all those who use it. The school's excellent internal visual and educational connectivity is the product of an efficient footprint combined with an outstanding external wall to floor area ratio, an approach which is not just intrinsically sustainable, but also allows the project to deliver additional accommodation over and above the brief whilst still remaining well below the relevant SFT area guidance.
PROJECT: West Calder High School
LOCATION: West Lothian
CLIENT: Hub South East Scotland on behalf of West Lothian Council
ARCHITECT: Norr
STRUCTURAL ENGINEER: Arup
SERVICES ENGINEER: DSSR
LANDSCAPE ARCHITECT: Rankin Fraser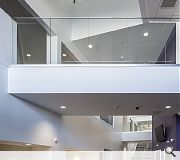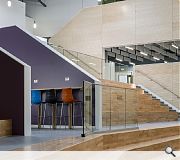 Suppliers:
Photographer: Keith Hunter
Acoustic Consultant: RMP
Back to Education