UWS EcoCampus
The £110 million new University of the West of Scotland (UWS) campus at Hamilton International Technology Park developed by HFD Property Group (HFD) and designed by Mosaic Architecture + Design has opened its doors to the new student intake.

A partnership between UWS, and developers HFD, the new 235,000 sq.ft. Lanarkshire campus offers a range of specialist labs, teaching facilities and social spaces as well as a gym, and student union.

The new campus is one of the UK's 'greenest' educational environments, with carbon neutral buildings incorporating sustainability features such as 100% renewable power, generated through a windfarm and rainwater harvesting.

The three campus buildings which form the Campus are joined by a 'Street' which provides work and social spaces for students, staff and the local community. The buildings have been designed to adapt to modern learning techniques which rely more heavily on smart devices and open plan teaching.

The campus also sees the introduction of innovative learning landscapes combining formal learning environments with new interactive and technology-rich learning zones.

The campus includes a 236-capacity auditorium and a conference space for up to 128 people. A priority has been placed on sustainability, making UWS Lanarkshire one of the UK's greenest university campuses, powered by renewable energy from the nearby Blantyre Muir wind farm.

Working with the University and Developer we carried out the Cat A Works and in collaboration with haa design the Cat B works.
PROJECT: UWS EcoCampus
LOCATION: Hamilton
CLIENT: UWS & HFD Group
ARCHITECT: Mosaic Architecture & Design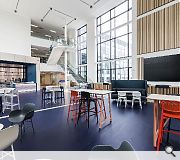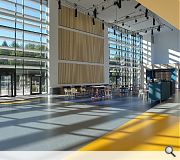 Back to Education