Avonbridge United Reformed Church
The remodelling of Avonbridge United Reformed Church involved crafting a flexible interior capable of accommodating both worship and a programme of community outreach.
The solution was to vacate a dilapidated later addition hall and consolidate all activities within the original church building itself, which had been left vacant in recent years due to being considered no longer fit for purpose by the congregation.
The levelling of the previously raked floor has facilitated a more flexible space, into which a birch plywood-lined volume has been inserted, containing key ancillary accommodation in the form of a kitchen and toilets. The creation of a new light well, formed in tandem with this, opens up a portion of the roof space, providing a brighter, more voluminous feel.
Designed to support established initiatives, such as a lunch club, a credit union, and the daily activities of the Church, planned uses of the newly reopened building also include IT provision to assist those who are unemployed in their search for work and a community café.
PROJECT: Avonbridge United Reformed Church
LOCATION: Falkirk
CLIENT: United Reformed Church Synod of Scotland
ARCHITECT: 3DReid
STRUCTURAL ENGINEER: David Narro Associates
INTERIOR DESIGNER: 3DReid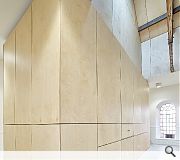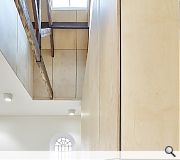 Suppliers:
Main Contractor: Stag Developments
Photographer: David Cadzow
Back to Interiors and exhibitions