Arcadia at Easter Bush
The building is orientated around a central 'plaza' space, providing a large flexible space in the heart of the building, this optimises supervision and reduces the need for internal corridors. This large central space acts as a focal point for the whole Nursery, helping promote the notion of community and identity.

The buildings design optimises the fantastic rural setting of the Nursery, the principal rooms are orientated towards the rolling fields and mature tree belt to the south, the fields often filled with sheep and horses. Each play room has full height glazing, optimising daylight and views out, with a covered external play loggia, providing a sheltered external pay area if the weather is poor, and glare and solar control of the weather is good.
PROJECT: Arcadia at Easter Bush
LOCATION: Roslin
CLIENT: The University of Edinburgh
ARCHITECT: Atkins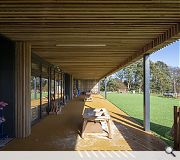 Back to Education